Nails Articles
18 Inspirational Unicorn Nail Designs You'll Fall Loving With
By
|
How many of you do believe in myths? We are likely to think that a fair share lot of you do and there is no wonder why since myths do exist not only to entertain but also to fascinate us. What is more, when it comes to the fictional world it always seems to be more interesting than the reality, and that is how many people tend to escape the routine. That is why if you believe in vampires and mermaids – you have come to the right place! We are not going to prove it to you whether they exist or not but we will surely treat you with a great portion of unicorn nails ideas, that is for sure! By the way – do you know that unicorns create rainbows? That is one interesting fact to remember since every time you see a rainbow in the sky you can imagine unicorns flying there. Now, let's have a closer look at what we have got here, who knows maybe you will get sщ inspired that you will run to the nail artist straight away!
Sparkle Like A Unicorn Ombre Nails
Unicorn nail art is popular due to many reasons, but one thing is for sure it always looks magical. Just look at these sparkly stilettos – wouldn't you fall in love with these nail art designs?
Source: amberlea_d via Instagram
Gentle Light Blue Unicorn Nails
You do not need to take your unicorn manicure over the edge in most cases. Sometimes all you need is a nice unicorn image in combination with some light blue sparkles and a pearly horn!
Source: home_of_deva via Instagram
Holographic Chrome Unicorn Nails
Holographic nails powder is on the edge of popularity these days that is why you can easily kill two birds with one stone – follow up the trend and succeed with unicorn nail design! Besides, you can always make your very own holographic nail polish since all you need to combine is your fav nail polish and some Spectraflair.
Source: didoline via Instagram
Cartoon Unicorn Nail Art Design
If you are in love with cartoons, you will surely appreciate this idea. The nude base is lightly touched by beautiful unicorn image, there is nothing too daring and out of place about it.
Source: nails_irinamarten via Instagram
Absrtacted Unicorn Skin Nails Art
It is true that unicorn skin may easily be the rarest thing that you have ever seen. However, you can easily replicate the look on your nails. This easy unicorn art is perfect in its simplicity, what do you think?
Source: chelseaqueen via Instagram
Bright 3-D Unicorn Nails Art
The best way to make your nail art stand out is to add some 3-D patterns to it. This lovely unicorn image is surely not to go unnoticed no matter where you are headed!
Source: polishmeprettynailbar via Instagram
Fairytale Unicorn Nail Deign
Those of you who are skilled in drawing on the nails may come to liking this particular idea. The thing is that you do not need to limit your imagination and anything on the scale from castles to unicorns can be involved in your mani!
Source: gisellanails via Instagram
Fabulous Unicorn Horn Nail Art
This particular idea may take a visit to a nail artist, but the outcome will be surely worth it. Just look at the precision, and the magic is pouring out of this manicure!
Source: sarahsnailsecrets via Instagram
Dreamy Unicorn Nails
If you like to daydream no matter where you are this unicorn nail art idea will surely come to your taste. Every time you have a look at these perfect pastel and charming nails will take you to the faraway land in a blink of an eye.
Source: annalayza via Instagram
Sparkly Ombre Unicorn Nails Coffin
Something as bold and daring as coffin-shaped nails can be easily transformed in the heart-melting unicorn masterpiece if you have a proper idea at hand. What we think is exactly the choice you should make.
Source: nails_by_annabel_m via Instagram
Bling Midnight Unicorn Nails
There is never too much of sparkle when it comes to unicorn nails. However, this is not the regular pastel-shaded ides, this midnight blue bling adds some dark charm to the manicure, and chrome nail accent takes it to the top of the trend.
Source: nails_by_annabel_m via Instagram
Easy Unicorn Nail Art
Of course, not everyone is the experience nail artist, but the desire to come with own masterpiece is far too great to resist. If you are one of those people, then you will definitely appreciate the hint!
Source: cni_perm via Instagram
Sweet Unicorn Ombre Nails
Unicorns, magic, and lollipops – is there anything better in this world? If you think that there isn't you will surely recreate this nail design the next time you are about to do your nails.
Source: salon_de_lumiere via Instagram
Bright Rainbow Unicorn Nail Design With Rhinestones
When summer is around the corner, or you are just in love with bright colors, this is the pattern to pull off, that is for sure. The depth and vibration of color combined with holo unicorn image look marvelous!
Source: kt_tk1via Instagram
Cute Pink Nails With Holographic Unicorn Art
Covering your unicorn nails holographic fully may be a challenge for some of us, but there is a perfect way out. Just add some holographic stamping to your manicure and the perfect unicorn nails will be created!
Source: kombucha_witch_ via Instagram
Simple Unicorn Rainbow Nails
Sometimes you do not have to take it too far to succeed with a magical manicure. A pretty, pastel-shaded ombre will do just perfectly.
Source: _hannahweir_ via Instagram
Silver Glitter Ombre With Hand Painted Unicorn Accent Finger
Do you know how unicorn nails dust look like? It looks like a perfect sparkly ombre! As simple as that.
Source: coewlesspolish via Instagram
Galaxy Unicorn Nail Design
If you can't choose between two trends – just combine them. The killer combo of unicorn and galaxy nails is the beautiful example to support the point.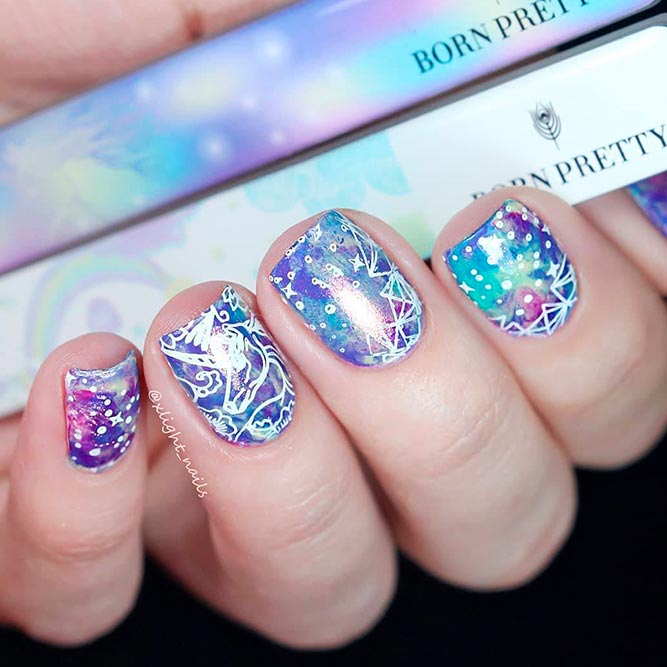 Source: xlight_nails via Instagram
We hope these ideas come to your liking and you will share them with your friends! Do not forget to check for updates!
Main photo by Gisellanails
Read more: naildesignsjournal.com